< Appartement in Margareten
Vienna City Appartement
Nur 4 Gehminuten von der schwulen Szene am Naschmarkt entfernt wohnen (U4 Kettenbrückengasse). Zentral, ruhig und zentrumsnah liegt das Vienna Gay City Appartement.
Only a 4-minute-walk away from the gay-scene at Naschmarkt (U4 Kettenbrückengasse). The apartment is centrally located, quiet and close to the city-center.
Das Appartement für 2 bis max. 4 Personen liegt sehr zentral in der Nähe der Wiener Staatsoper (10 Minuten zu Fuß). Ein Wohnschlafraum mit Fenster in einen ruhigen Innenhof, 32 Fernsehkanäle, einem gemütlichen Doppelbett, einer ausziehbaren Sitzgarnitur mit Couchtisch und einem PC Internet-Surfplatz mit Flatrate für zeitunbegrenztes Surfvergnügen.
The apartment for 2 - 4 people is not far from the Vienna State Opera (10 minutes walk). Expect a combined living- and bed- room facing a quiet courtyard, 32 TV-channels, a cosy three-piece suite with a fold-away twin-bed, a living-room table, a pc with access to the internet at a flatrate for limited surf- fun.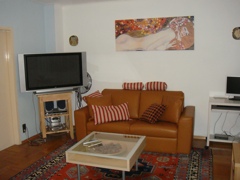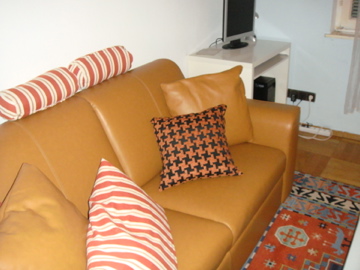 Im Badezimmer mit einer Badewanne und angrenzendem WC Raum finden Sie frische Hand - und Badetücher.
Fresh towels can be found in the bathroom - with bathtub - and in the adjoining restroom.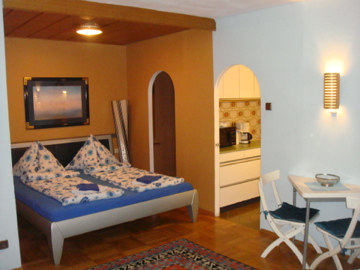 Eine kleine Küche mit kompletter Ausstattung und ein separater Schrank - und Ankleideraum für die Aufbewahrung Ihrer Kleidung und des Reisegepäckes ist ebenfalls vorhanden.
A small but fully equipped kitchen and a walk-in wardrobe where you can deposite your clothes and your luggage are also provided.
---
Ablauf
Informieren Sie sich
Sie schauen in unserem Terminkalender, ob der gewünschte Termin noch frei ist
Kontaktieren Sie uns
Machen sie eine E Mail - oder Telefonanfrage bei uns. Gerne informieren wir Sie jederzeit über freie Termine und beantworten Ihre Fragen!
Buchen Sie Ihren Urlaub in Wien
Buchen Sie das Appartement per Mail oder Telefon. Wir schicken Ihnen (Fax oder E Mail) die Reservierungsbestätigung mit allen wichtigen Informationen und Details zur Schlüsselübergabe.
Anreise nach Wien
Sie Reisen mit Auto, mit dem Zug oder mit dem Flugzeug
http://www.at.map24.com/
http://archiv.vienna.at/feat/stadtplan_neu/
Sie ziehen ins Vienna City Appartment
Sie werden zum vereinbarten Zeitpunkt im Appartement persönlich von uns erwartet oder Sie holen sich den Schlüssel völlig unkompliziert und ohne Terminstress täglich ab 15 Uhr im unter gleicher Leitung stehenden Sling Club Bar Vienna ab. Von der Bar zum Appartement geht man 2 Minuten. Bei der Schlüsselübernahme ist die restliche Miete in Bar zu bezahlen.
Sie genießen ihren Urlaub
Ihr Aufenthalt gehts zu Ende
Bitte füllen Sie den Fragebogen aus der Willkommensmappe aus. Damit helfen Sie uns, unser Angebot zu verbessern.
Sie reisen ab
Wenn es Ihnen gefallen hat und Sie zufrieden waren, empfehlen Sie uns bitte weiter!
Procedure
Get informed
Look at the Calender if the dates preferred are available.
Get in touch
Please, inquire by e-mail or phone. We gladly inform you about the term available and answer your questions.
Book your holiday in Vienna
Would you kindly book your apartment by e-mail or phone. We are going to confirm by fax or e-mail and provide you with the most important details and where to get the keys.
How to get to Vienna
You may travel by car, rail or plane.
http://www.at.map24.com/
http://archiv.vienna.at/feat/stadtplan_neu/
How to move into the Vienna City Appartment
Either we welcome you personally at the time arranged City Apartment or you can pick up the keys easily and without any pressure at the Sling Club Bar Vienna run by the same owner. The bar opens daily at 3 p.m. and is within walking distance (2 minutes). On receipt of the keys the remainig rest of the rent has to be paid.
Enjoy your stay in Vienna
Your holiday comes to an end
We would ask you to fill in the form in the welcome- map! In this way you can help to improve our services
Departure
If you enjoyed your stay and were satisfied, would you be so nice and recommend our apartment!